As your local water utility provider, we strive to keep you continually updated on all matters related to your water service. If you do not find the information you need, please contact our office at (405)372-1151 and we will gladly assist you!
The Fifty-One East Water office will be closed December 24th and 25th for Christmas, and Decmber 31st and January 1st for New Year's.
In case of emergency, dial 405-372-1151 for the 24 hour...
The 51 East Water office will be closed Thursday Nov 28 and Friday Nov 29 for Thanksgiving. For emergencies, dial 405-372-1151 to reach our 24/7 answering service.
Quick reminder about the annual meeting tonight at 6pm. The meeting will be held at the Payne County Expo Center at the intersection of Fairgrounds and E 6th St (Hwy 51).
RSVP 405-372-1151
51 East Water will host its annual Member Meeting on November 12, 2019. The meeting will be held at the Payne County Expo center located at the intersection of E 6th St (Hwy...
The 51 East Water offices will be closed Monday September 2, 2019 for Labor Day. In case of emergency, please reach our 24/7 service at 405-372-1151.
You may receive two bills this month. We had a processing error that sent a duplicate of your August bills to our printing and mailing service. The corrected September bills along with a letter...
The Board Meeting scheduled for June 13, 2019 has been rescheduled.
The meeting will be held June 14, 2019 at 2:00pm at the 51 East Water offices.
Please help us provide you better service by making sure your contact information is up to date:
Phone Number
E-mail (separate from our PSN online billing partner)
Mailing Address
We use the...
2018 Annual Meeting of Members. Nov. 13 at 6pm. RSVP now. 405-372-1151.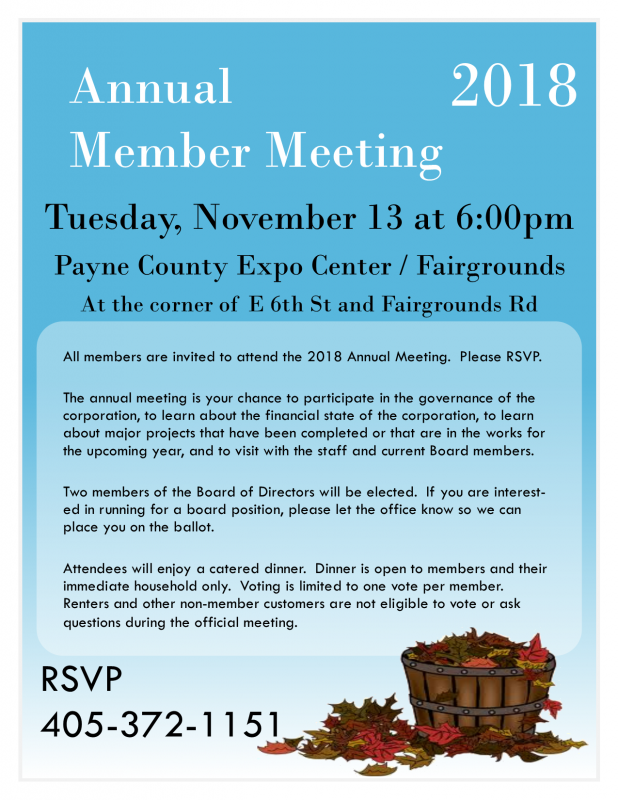 The 51 East Water annual meeting of members will be held on Tuesday, Nov 13 at 6:00 pm. The meeting will take place at the Payne County Expo Center (Fairgrounds) located at the corner of E 6th...
We have now installed and added to our billing software 551 automated meter systems! We are over half way to having all of our meters converted to the updated technology. They are much more...
Due to an error on our part, incorrect bills were mailed out earlier this week. We have corrected the error, and new bills will be mailed by Friday. The error caused old billing information to...
Spring is here and that means 51 East staff will be out in full force making updates, repairs and working on new projects. We now have 375 meters converted to the computer/radio reading system. ...
**UPDATE 3/20/2018**
We have completed installation of 325 transmitters along with the updates in the computer to connect them to the system, and continue getting more with the new technology and...
We had a wonderful time at our Annual Meeting and dinner on Tuesday, Nov. 14 at the Fairgrounds! Thanks to all of you that came out to spend the evening with us. Jan Harris was elected to serve...
Just a reminder of all of our billing and payment options! You can continue to get a paper bill, get a paper bill AND an eBill, or receive an e-mail copy only. However you want to personalize...
We are happy to announce that we now have online options for payments and for viewing your bills. You can pay with credit card or checking account. Choose a one time payment or recurring...